VVA Roller version in brief


The "Roller" version of Pattakon VVA on the intake and the exhaust valves of a Honda B16A2, 1600cc, 16-valve engine:


the control shafts (blue) at a low-lift mode,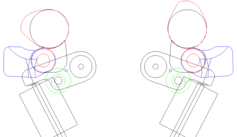 the control shafts at a medium-lift mode,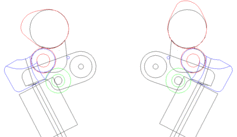 the control shafts at a high-lift mode.

Click on any of the above images to download the respective full-size GIF animation.

The control shafts are directly connected to the gas pedal by the gas cable. The deeper the gas pedal is pressed, the more the control shafts rotate increasing the valve stroke. When the gas pedal is released the normal valve springs restore the control shafts to their "idling" position.

Depending on the control shafts angular position the valve lift profile varies continuously from zero (for valve deactivation if desirable), to tiny (for idling), to mild, to medium, to racing (top curve), all in the same engine, all instantly available: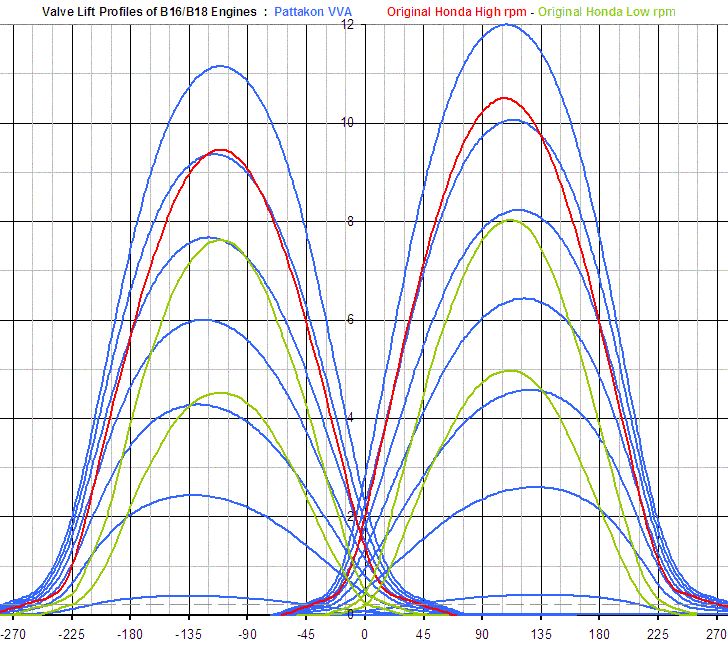 The Low rpm (green) Valve Lift profile is different for the two intake valves of the same cylinder of the original VTEC engine (similarly for the two exhaust valves of the cylinder).
The blue curves are only few - of the infinite available - valve lift profiles the "pattakon VVA roller version" provides.

The quick moving parts are lightweight: the original Honda rocker arm assembly weighs 0.26 Kp while the complete rocker arm of the Pattakon VVA (the two rollers included) is less than 0.15 Kp.

Even with the toughest valve springs, the engine at normal conditions (i.e. low to medium revs) "feels" (as regards friction, wear etc) by far softer springs.

The conventional throttle valve is not necessary any longer: the intake valves make the "throttling" (ideal for efficient and cheap ITB).


---