Fully Variable Valve Actuation (FVVA)
---
Intellectual Property: patent US 7,765,965
---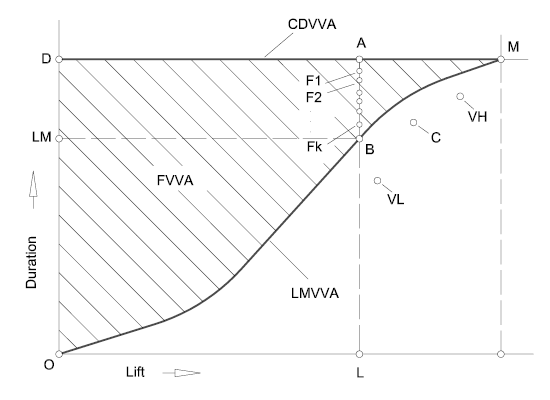 The Lift-Duration plot depicts the modes (i.e. the lift-duration combinations) the various known valve systems and the FVVA can operate with.
To 'sweep' the entire hatched area, two variables are necessary.
In the Fully Variable Valve Actuation (or FVVA) case, the 'state' of a first control and the 'state' of a second control are the two variables.
With one only variable, as is the case for the state of the art VVAs, the only possibility is to move along a curve, like the O-B-M for the Lost Motion VVAs, or the D-A-M for the Constant Duration VVAs.

The FVVA provides not only the modes the Constant Duration VVA and the Lost Motion VVA can jointly provide, but infinite times more modes: all the modes along the O-B-M curve, and all the modes along the D-A-M curve and all the modes between these curves (hatched area).
From the one dimension (lines) we move to the two dimensions (area).

The conventional engine is capable for only one mode, like the point C, and the VTEC engine is capable for only two modes, like the pair of points VL and VH.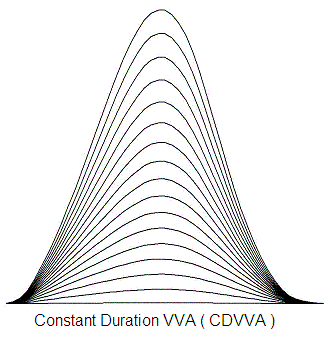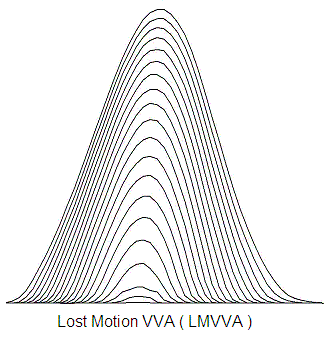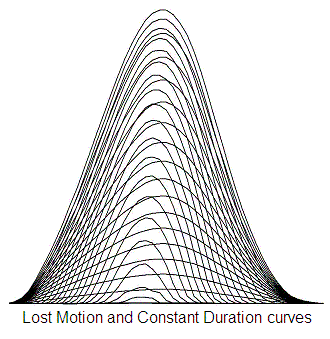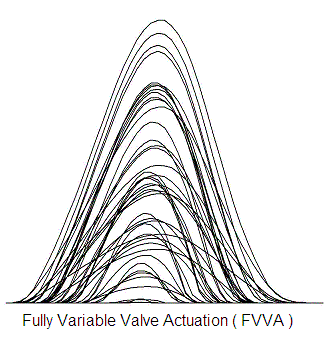 The above plots of valve lift versus crank angle (valve lift profile) have all been taken by the Double Roller FVVA of the following figure: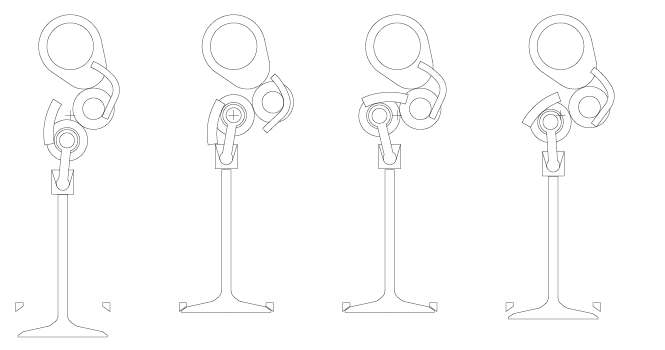 The result of locking the right control shaft at its maximum angle, is the degradation of the FVVA down to a Constant Duration VVA (curve D-A-M).
The result of locking the left control shaft at its maximum angle, is the degradation of the FVVA down to a Lost Motion VVA (curve O-B-M).
By rotating both control shafts, the whole hatched area is accessible.


To learn more and 'play' with FVVA's capabilities, download and run the program 'FVVA.exe' (68 KB) by clicking on the image: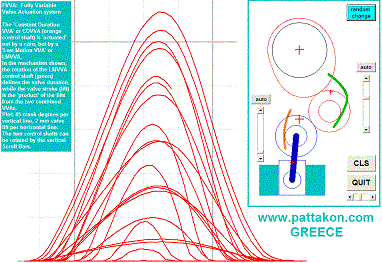 The 'FVVA.exe' shows animated the Double Roller Fully Variable Valve Actuation mechanism, and computes and presents graphically the valve lift profile according the desirable / selected angles of the two control shafts.


What does the VVA bring, beyond complication and cost, compared to the conventional valve system?
Nothing more than additional valve lift profiles to choose from. Picking a more suitable valve lift profile for the existing operational conditions is the whole idea.
And what the FVVA brings, beyond complication and cost, compared to the VVA? Nothing more than infinite times more modes to choose from and approach much closer the ideal (for the existing operational conditions) valve lift profile, without the restrictions of VVAs.

Restrictions?
Rotating the control shaft of a state of the art VVA (like BMW's valvetronic or like any other VVA) at an angle A1 the valve lift is L1 (e.g. 4mm) and the valve duration is D1 (e.g. 120 crank deg).
Rotating the control shaft of the same VVA at an angle A2, the resulting valve lift is L2 (e.g. 9mm) and the resulting valve duration is D2 (e.g. 250 crank degrees).
If, for some operational conditions, the ideal valve motion has 4mm lift and 120 deg duration, the VVA cooperates with the engine perfectly. If, for some other operational conditions, the ideal valve motion has 9mm lift and 250 deg duration, the VVA cooperates with the engine perfectly, again.
But imagine the case the ideal, or the desirable, valve lift profile has 4mm lift with 250 deg duration: all a VVA can do, is to compromise and approach the 'desirable'/'ideal' valve lift profile with some 'possible'/'accessible' valve lift profile having intermediate lift and duration (like 6mm lift with 180 deg duration).
Is there any reason (or chance, or possibility) all the ideal valve lift profiles to lie on a line (like O-B-M or like D-A-M) of accessible valve lift profiles?

No doubt, VVAs is a step ahead. But they carry their own compromises. Here comes the FVVA.


After the above analysis, the skilled in the art can think of ways to upgrade up to a FVVA, his favourite VVA, like: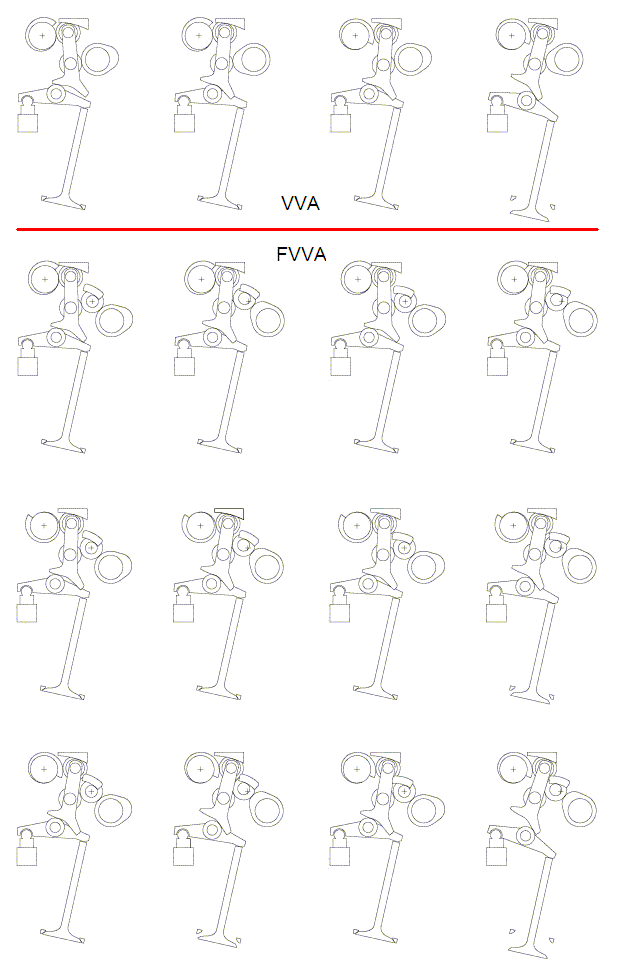 ---